Room Additions | Room Extensions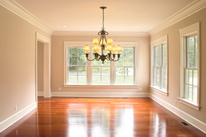 Adding a room to your house isn't just a simple upgrade. You need a team that understands your home's current dimensions and aesthetics, working to create a customized room addition that keeps your home's beauty in the right balance while offering expanded, comfortable space.
In other words, we're not working with "Legos" here, folks.
Need an expanded kitchen to grow along with your culinary prowess? A sunroom to capture that great morning view? A new office? Call O.K. Contracting. We can give you a Free Estimate on all of your home construction needs, from A to Z.
What will you get from us? Let's take a look at the highlights:
A free estimate for your project
Prompt, courteous service
Efficient, accurate home remodeling
Top-of-the-line craftsmanship inside and outside
A professional attitude and steady dedication to the task at hand
We know that no two jobs are alike, so our services begin with your goals and end with your total satisfaction. O.K. Contracting's idea of a "job well done"? The same as yours. Let us know how we can help you and we'll work with you to create a free estimate for your room addition project.